What is an EPAT Treatment Plan In West Orange, NJ?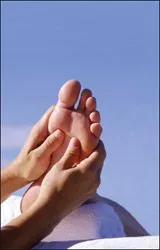 The Extracorporeal Pulse Activation Therapy (EPAT) is commonly used to treat heel pain, which can interrupt your daily activities. EPAT is a fast, safe and effective non-invasive treatment option that helps to reduce the recovery period while also eliminated risks that are commonly associated with traditional surgery. Treatment sessions with EPAT only require 15 minutes out of your day, depending on the disorder being treated. And in as little as three treatment sessions, you can experience relief from your pain.
EPAT is FDA cleared and is used around the globe. A special gel is first applied to the treatment area of interest in order to enhance effectiveness. Next, EPAT pressure waves are released through the applicator that is moved over the area experiencing pain in a circular motion. Through this, pressure waves are delivered into the painful area to gradually regenerate the damaged tissue.
What are the conditions EPAT treats?
• Heel pain
• Bursitis
• Tibialis anterior syndrome
• Heel spurs
• Achilles tendonitis
Are there any complications to this program?
With this non-invasive procedure, patients will experience no downtime, as they will be able to continue their daily activities without complications. With extensive knowledge and specialized training, we can help eliminate your pain with EPAT.
If you have any questions or concerns about the EPAT procedure, please contact our West Orange, NJ office to schedule a consultation today (973) 731-1266!